Games to Preorder This Fall Part 1: Harvest Moon: The Tale of Two Towns
September 9, 2011
Longest post title ever or longest post title ever??
There's some pretty rad games on the horizon, and they're all due for release just before the holiday season, which is nice.
This post is part 1 of three-ish.
As for this first one and the one I'll talk about tomorrow, I'm pretty excited about them, although they're niche titles so you won't hear much hype about them elsewhere. They're also coming out really soon, like, before September is over. So if you want in on an incredibly adorable preorder bonus, you've got to get in on this soon.
Game to Look Forward to #1 is Harvest Moon: The Tale of Two Towns, the DS version of which will be sent to stores September 20 (which, common to publisher Natsume, usually means it'll be available to buy on the 21st). No date for the 3DS version has been announced yet, besides Natsume's comment that it will be in October. Place your preorder through either Natsume's Online Store or Gamestop in order to get the bonus, which is DRUMROLL PLEASE…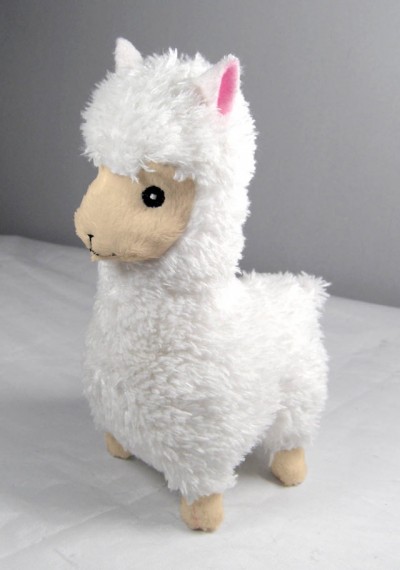 …an aplaca plush. Yes. Yes.
(Btdubs, those links are for the DS game… no links are available for the 3DS one yet, although Natsume promises alpacas will be available when you order the 3DS one as well.)
Anyway, Tale of Two Towns sounds like a pretty sweet addition to the Harvest Moon lineup. There's a lot more emphasis placed on exploring, as in between the titular two towns (European-themed Bluebell and Eastern-themed Konohana) is a massive mountainous map. On the mountain's paths, you can interact with various environmental elements, climbing and jumping your way through the terrain to fish, catch bugs, and forage around for items. The environment is gorgeous. I think some pretty major graphical enhancements have happened in this installment.

Here's a five-minute video of gameplay in which both towns are explored a little, we'll see some of the mountain path's interactivity, and a bit of animal care:
In addition to the prettier scenery, the colorful folks inhabiting the towns definitely don't look half bad, either. This game boasts a wide variety of marriageable candidates, and I love that the artwork is juuuust a tad more grown-up and anime-looking rather than the short, 'chibi' style characters Harvest Moon usually goes for – not that I don't love HM's previous art and character designs, but it's just refreshing to see an updated art style. c: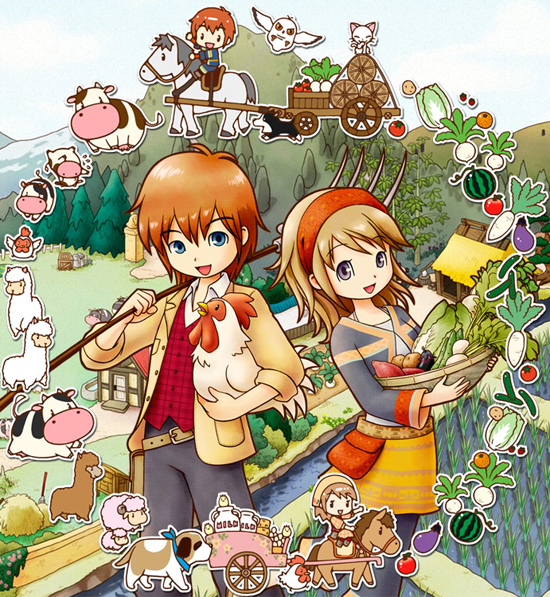 Okay, so here's the places you can purchase this one, and it's very important to note that the Gamestop and Natsume Store links are only for the DS game, and are the only ones that offer the alpaca plush bonus.
Natsume Inc's Store: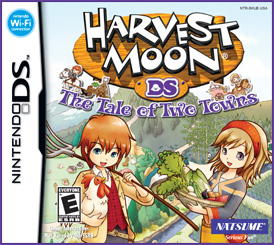 GameStop:
PlayAsia:
Amazon:
Alright! There's one game down! The next part of this series will be up tomorrow (disclaimer: maybe actually the day after, if I get lazy), and I'll give you three hints as to what upcoming game that will be: 1.) It's also published by Natsume; 2.) You probably already know what game it is because I never shut up about it; and 3.) There's a screenshot from it on the homepage. Yup. YOU'LL NEVER GUESS.
Update: Here's Part 2
Update Again!: Part 3 is here!
Friday, September 9th, 2011 12:44 pm
Subscribe to the comments feed if you like. You can leave a response, or trackback from your own site.