Ninja Chicken Vs. Pirate Penguin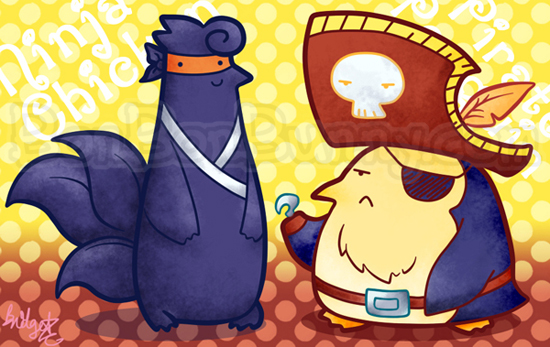 March 2010
Guest art for a friend's comic book series, Pirate Penguin VS. Ninja Chicken. These are the stars of the comic, Ninja Chicken and Pirate Penguin, who experience many nonsensical misadventures together.
The characters and their designs belong to Ray Friesen, who is a silly person. If you enjoy laughing, which most folks do, check out his site and read his comics.
It was oodles of fun drawing these characters. Their designs are completely unlike anything I could ever come up with on my own, so it was cool to experience drawing something from another artist's imagination. The color palette and unique shapes of the characters (diggin' Ninja Chicken's swirly-spiky 'do) are elements that I'd never think of incorporating into my own work, so making this was different and fun. c:

Please respect the artist and do not use this image for any purposes (forum avatar, signature, Web graphics, banners, any personal use or commercial gain). (Exceptions?)


Do not trace, copy, or alter in any way. Do not remove signatures or watermarks.


Do not save and/or upload elsewhere (Photobucket, Flickr, Tumblr, etc.).

Wednesday, April 13th, 2011 12:20 pm
Subscribe to the comments feed if you like. You can leave a response, or trackback from your own site.