Gardening Mama
May 8, 2011
Hi there!  Welcome to our FIRST EVER INSTALLMENT of This Game I'm Playing.
Since today is Mother's Day, a day that my mom always says is a great day to safely assume there won't be any more frosts (hooray, Springtime!) and is therefore the perfect day to go outside and do some gardening…  Well, the most obvious game we should review is Gardening Mama!  I mean, can you even get any more appropriate than that?
First off, I wanna get us started by saying that this game is freaking adorable.

I'd actually never played any of the Cooking Mama series besides small demos, so this was my first actual purchase of the series.

What made me dive into it?  Well, I rather like quirky minigames.  I also like flowers/girly things in general, and pixel art, and happy colors.  When I saw the box art for this game, my little heart squee'd with joy.

SO MANY BRIGHT COLORS AND THOSE FLOWERS ARE SO CUTE OMG THIS GAME LOOKS SO CUTE AHHH
So anyway.
The general gameplay is the same as any other Cooking Mama installments. The process of growing flowers is handled through touch screen-controlled minigames, which basically follow the same steps you'd take in real life but sometimes Mama's methods are pretty out there.
BUT BEFORE WE GET TO THE MINIGAMES
I like checking out the other game options before playing the actual game. \( ._.)/
This is the Decorate the Garden mode.

The dotted outlines are places where we can put cute garden decorations and flowers!  There are actually a lot of customization options, but right now we just see a lot of "?" icons because they need to be unlocked by playing the actual game. c;

The empty plots (surrounded by pink picket fences) would even showcase the flowers that you've grown so far! Cute!!

Yeah, we should probably get on that whole "growing flowers" thing.

Like, that should be the main part of this review.
NOPE. LET'S DRESS UP MAMA FIRST.

The menu option that says "Make it Fancy" leads to this.

More "?" icons. MANNN. I guess we really should actually do some gardening.

Those secret dress-up options aren't going to unlock themselves.

(Bee-tee-dubs, the colorful flowers that you can drag around to make the floral headpiece are so pretty. ; 3;~)
OKAY COOL. LET'S GET PLANTING.
Oh hey look those decorations we placed actually show up in the garden while we're working.

And Mama* is actually wearing that spiffy outfit we put together for her. Neat!

*Having never actually played a Cooking Mama game before this, I'm assuming that we refer to this character as "Mama." o_O
Pansies are my most favoritest flowers, so we're going to start with those!

Sowing the seeds! That should be easy! Let's get started!
Some simple games get those seeds in the ground! Your touch screen controls things like directing the shovel, tilting the watering can, and patting down soil. c:

It's all pretty leisurely, even with a timer counting down the seconds.

I messed up one step, but Mama promised she'd make things right! XD
| | |
| --- | --- |
| Yup, everything turned out okay. c: | |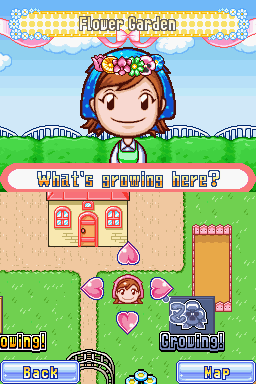 And now we wait a bit while the flowers are sleeping (I guess?).
I might continue this and show how the flowers turned out when they finished growing, but let's wrap up this post for now!
Hope you enjoyed my little article! I'll be covering more cute games in the future!  Have a happy Mother's Day!
If you want to check out Gardening Mama for yourself, here's where you can find it on Amazon and here it is on Play-Asia!
Sunday, May 8th, 2011 3:58 pm
Subscribe to the comments feed if you like. You can leave a response, or trackback from your own site.