Purantchi Growth Chart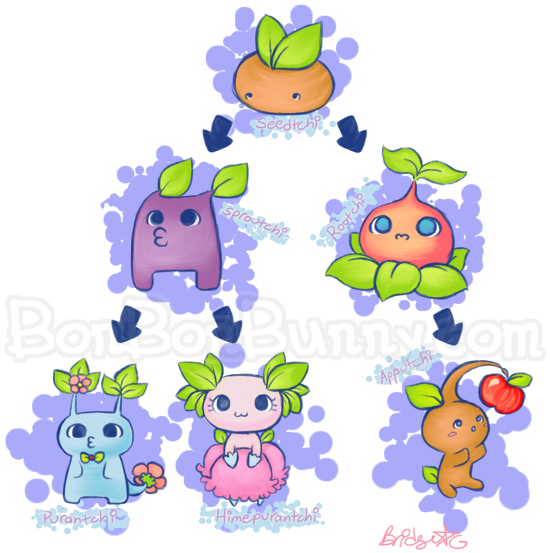 August 2010
A Tamagotchi group on DA was holding a contest and inviting its members to create six new Tamagotchi characters, based on what sort of characters you wish existed in the Tama world! So, I went with PRETTY PLANTS. Even though the Violet Family already exists – my belief is that Violetchi is NOT PRETTY ENOUGH.
Hopefully my growth chart is pretty clear. Seedtchi is the baby, and depending upon how it's taken care of, it may grow into either Sproutchi or Rootchi. Rootchi only grows into Apputchi as an adult, but Sproutchi may become Purantchi or Himepurantchi (a character that, in my imagination, would require a special item before evolving!).
Prettymuch this whole thing was just an excuse to draw Himepurantchi. <3<3 This was especially fun because I don't normally do monster designs, even though I'd like to. It's fun to be submitting things besides people. Variety is the spice of life! Tamagotchi belongs to Bandai, but these particular characters are mine


Please respect the artist and do not use this image for any purposes (forum avatar, signature, Web graphics, banners, any personal use or commercial gain). (Exceptions?)


Do not trace, copy, or alter in any way. Do not remove signatures or watermarks.


Do not save and/or upload elsewhere (Photobucket, Flickr, Tumblr, etc.).

Sunday, May 8th, 2011 7:56 pm
Subscribe to the comments feed if you like. You can leave a response, or trackback from your own site.