Jewelpet Kira Kira Insanity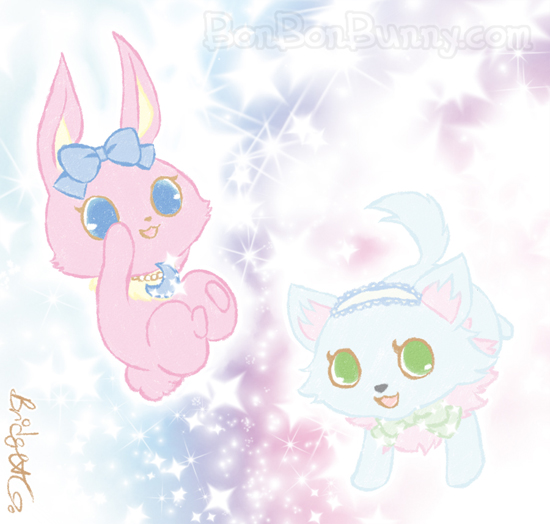 May 2011
WE INTERRUPT THIS PROGRAM to bring you Jewelpet fanart. This series is so cute and magical and sparkly I CANNOT EVEN CONTROL MYSELF AAAAAHH
Milky (minty green chihuahua) and Luna (pink bunny) aren't very important characters, but they are my favorites because of their color combinations, I can't help myself.
Seriously if you guys want to drown your eyeballs in kawaii, pick a Jewelpet series (I've been watching Twinkle) and start watching it. DO YOU NEED TO SEE HOW CUTE THE MAGICAL ANIMAL CRITTERS ARE? Here.
Jewelpet belongs to Sanrio and Sega


Please respect the artist and do not use this image for any purposes (forum avatar, signature, Web graphics, banners, any personal use or commercial gain). (Exceptions?)


Do not trace, copy, or alter in any way. Do not remove signatures or watermarks.


Do not save and/or upload elsewhere (Photobucket, Flickr, Tumblr, etc.).

Thursday, May 19th, 2011 12:38 pm
Subscribe to the comments feed if you like. You can leave a response, or trackback from your own site.