Rakuten Shopping Guide
May 24, 2011
Lots of the shopping coverage on my site will be related to Rakuten in some way, so let's get familiarized with it now. c:
To put it in the simplest of terms, Rakuten is a huge conglomeration of Japanese stores. It's easy to comparatively say that Rakuten is like Japan's Amazon. Many, but not all, of Rakuten's stores ship internationally.
First, let's get Rakuten's site in English.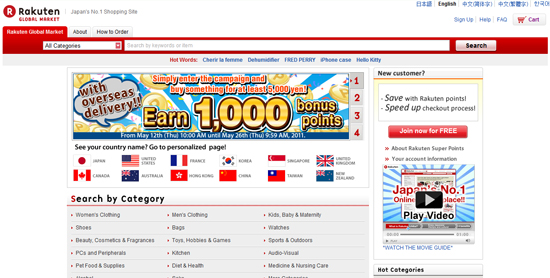 Wow, look at that! You were expecting everything to be in Japanese, weren't you?
Now, to make sure that the stuff you search for can be shipped to your country, click on the corresponding flag!
This part is important!! For example, if you live in the United States, you definitely and for sure want to be browsing here, because anything you search for from that page is sure to ship to the United States – it's automatically filtered for you!

I cannot stress enough how convenient this is. It is a huge bummer when you've selected all of your items and are about to check out, only to find that they can't ship to your area. Click your flag from the main page, bookmark it, and never have to worry about it again.
Just like with Amazon, it is possible to place orders through Rakuten without an account with them, but it will be made a lot easier for you if you do. So let's walk through how to sign up.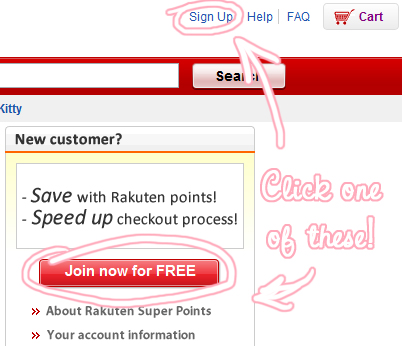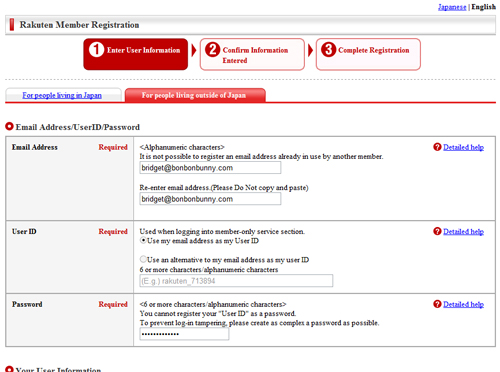 Everything is in English and automatically set to "For people living outside of Japan."
Fill out all of the information as it asks – it's basically your regular sign-up stuff.
!Note!: Sometimes, even though all of this information is asked for at signup, I still get a prompt when actually checking out. This prompt looks different and can be confusing, so I'll post it here:

And that's it for signing up!
Let's move on to searching and browsing and shoppinnnnggg!!
Like I said before, you want to start with your country's correct page, so let's go back here and choose your corresponding country. I bookmark mine so I don't have to repeat this step!

Type something into the search bar and that's it! You can narrow it down by choosing categories such as Women's Apparel or Shoes.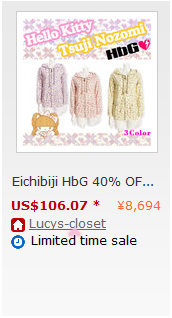 When I see something especially cute, I like to follow the link to the shop's name to go to everything that shop carries! I bookmark so many of these shops it is not even funny.
When your shopping cart contains items from different shops, your order will be 'split up' between those shops and you'll have to view all of your shopping carts separately.

It's a good idea to keep your shopping sprees limited to just one or two shops, because shipping is calculated separately for each order! There is no way that I've ever found to combine all of your items into one big order.
Here's my shopping cart for Dream Vision, one of my most favoritest Rakuten shops. <3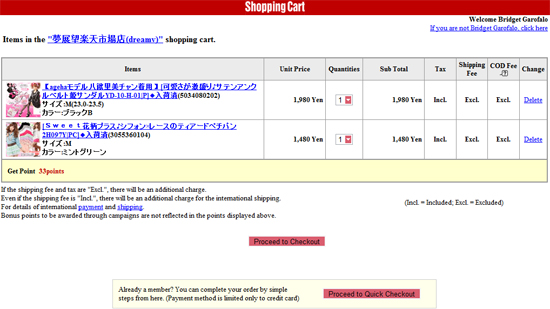 There's not much of a difference between Checkout and Quick Checkout. Both lead to a sign-in page, and if you've already input your address and billing information at signup, you shouldn't have to input any additional things for either of them. I usually choose Quick Checkout just… because… I have to choose one and Quick Checkout makes me feel better as a person, okay?! ;~;
You should always sign in before purchasing because you gradually rack up points! Every 50 points puts 1 yen in your account, and eventually it adds up and can get you some sweet little discounts!
Before clicking the final Place Your Order, you can scroll down to the bottom of the page to see what your shipping rate is going to be!
Okay, that's the end of my guide for now! I'll add more to this if I think of something!
Tuesday, May 24th, 2011 3:12 pm
Subscribe to the comments feed if you like. You can leave a response, or trackback from your own site.