Ice Cream Elephant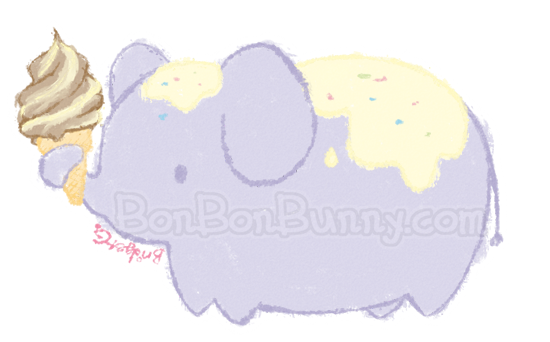 July 2011
More crayon doodles, eeeeee! Did you know that this is my very favorite method of drawing ever? SO THERAPEUTIC.
I finally went out and searched for more brushes for Sai. <3 Importing them is kind of confusing. But I like them - they introduce just a bit more randomness than the default (although tweaked) brushes I've used for other drawings like this (See: Giraffasus, Dinosaur, and Miss Cupcake), which is awesome for that naïveté crayon look. <3 DAT ELEPHANT. The idea for this image came up a few weeks ago, what with it being hot and Summery and then browsing fabrics with a friend who likes elephants and pointed out several fabrics featuring them. I think Angelic Pretty's release of Toy Fantasy really tipped the scale and got me to finally sit down and create this image. Have you seen that elephant? And giraffe?
Can I just
draw cute animals with sweets forever

Please respect the artist and do not use this image for any purposes (forum avatar, signature, Web graphics, banners, any personal use or commercial gain). (Exceptions?)


Do not trace, copy, or alter in any way. Do not remove signatures or watermarks.


Do not save and/or upload elsewhere (Photobucket, Flickr, Tumblr, etc.).

Sunday, July 10th, 2011 12:11 pm
Subscribe to the comments feed if you like. You can leave a response, or trackback from your own site.