Princess Training: The First Steps
August 28, 2011
I'm so happy! 😀 A few months ago, I treated myself to my first Lolita purchase. <3  As I waited, I sewed my first garments to go along with it. <3  And now, finally, I'm taking the first little baby steps toward living my princessy life~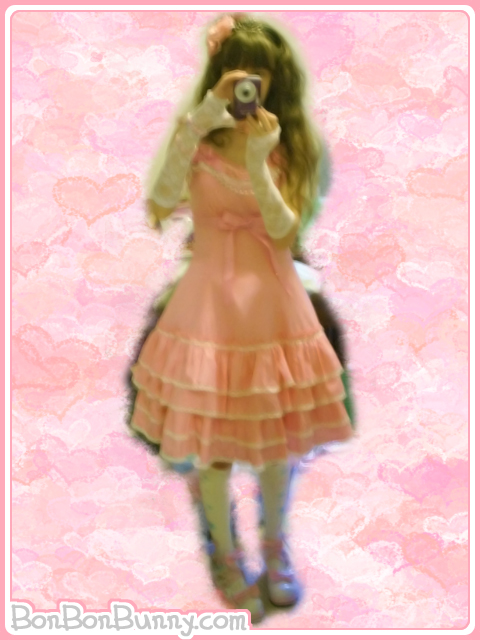 'Scuse me while I block out my messy room with crayon hearts. XD ((Brush credit goes to Colors Everywhere by Ronjark.))
I tried to make the outfit replicate the gif I made those months ago: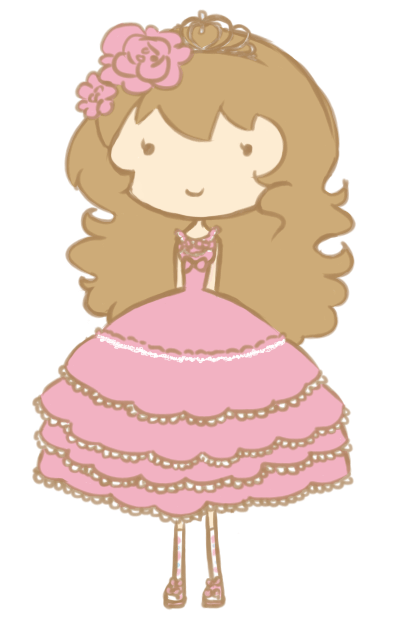 Do you think I succeeded? XD  (Don't answer that lul.  The color is off and I exaggerated the poof in the drawing. <3)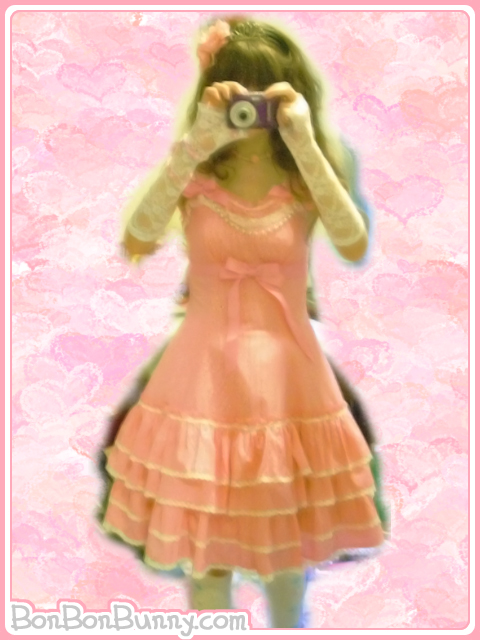 I'm still in the process of wrapping my head around the fact that this is mine. ;~; I feel like I am just looking at someone else's photos on the Internet. If this were Tumblr I would like the pic and just keep scrolling, pining away in my heart for those clothes to someday be mine. But they ARE mine! oAo THIS IS AMAZING.
Let's show some details of the outfit from head to toe~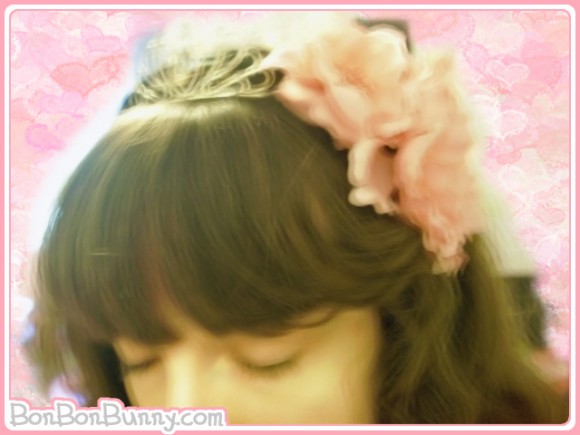 My tiara from Claire's and huge flowery headband from Charlotte Russe are tough to wear at the same time. XD
Here's the super pretty details at the neckline: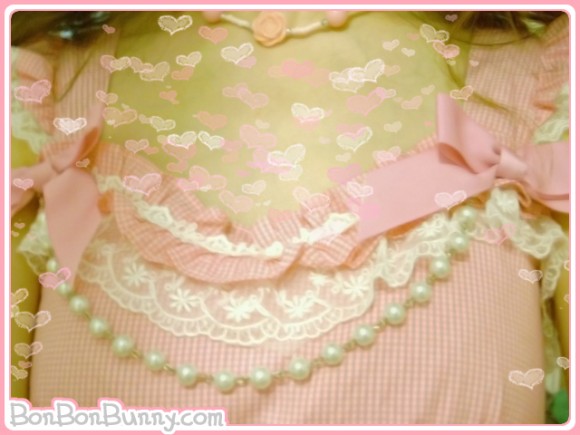 That picture didn't really need hearts but I put them there anyway. XD
The lower half: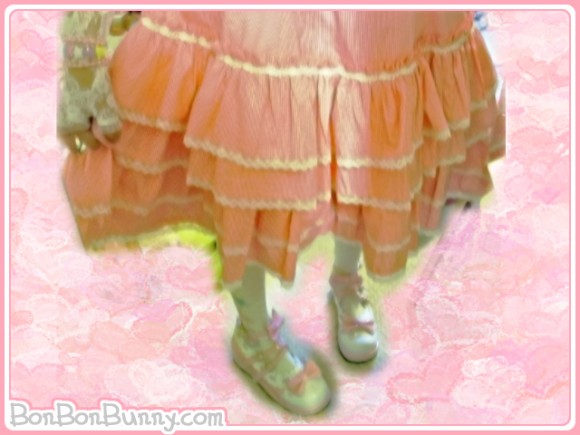 I am pleased with the poof my petticoat is providing, but I am blown away by the potential volume of this skirt!! I am definitely making a second petticoat out of twice the material I used the first time. More layers and more ruffles, I say! MORE! There's plenty of room under this skirt, let's fill it up! 8U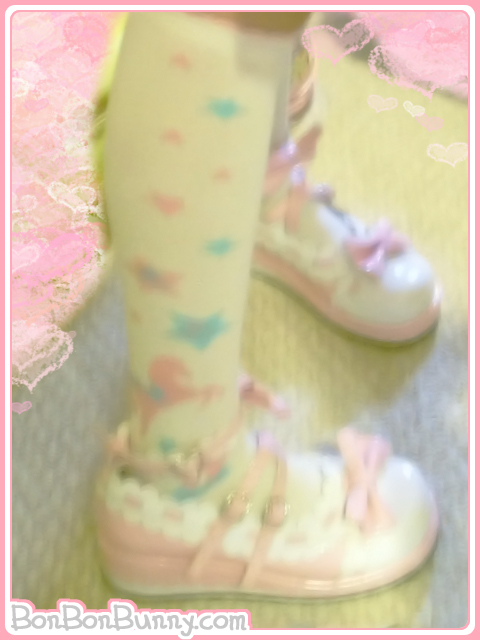 Can I talk about how in love I am with these socks? I know that silly colorful ponies don't exactly coordinate with the more elegant dress, but I just fell in love with the fantasy pony theme of these socks and couldn't not get them. Also these are officially the whitest socks that I own and I'm terrified of wearing them casually because they are doomed to turn dingy grey just like all of my other once-white socks. ;A;
As for the shoes – I'm sure I measured my feet accurately, and correctly converted the measurement into centimeters, but they are really big on me! There is a lot of space between the criss-crossing straps and the top of my foot. Oh, they're not so big that they're impossible or uncomfortable to wear. I'm going to put some arch supports or something in them to fill up the empty space a bit as well as simultaneously put some cushioning in there. n_n I'm actually glad for the extra room because it means I can wear thicker socks, or layer stockings + socks when it's cold in the Winter.
Adorable shoes like these are what I always think of as one of the important staples of Sweet Lolita fashion, and like the outfit as a whole I still can't believe that I actually own something this cute!! oAo My mind is totally blown!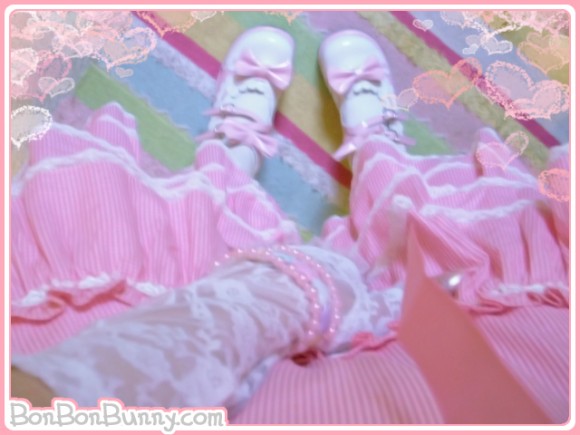 I attempted that perspective shot that everyone else seems to do. XD How do you guys manage to do those without falling over?! There is so much poof in the way you can't even see your feet without bending way over. oAo (Lol I <3 my throw rug.)
I thought I was done taking pictures, but then I sat down at my laptop and my skirt tried to eat the keyboard, which left me giggling so much I snapped a shot of that, too: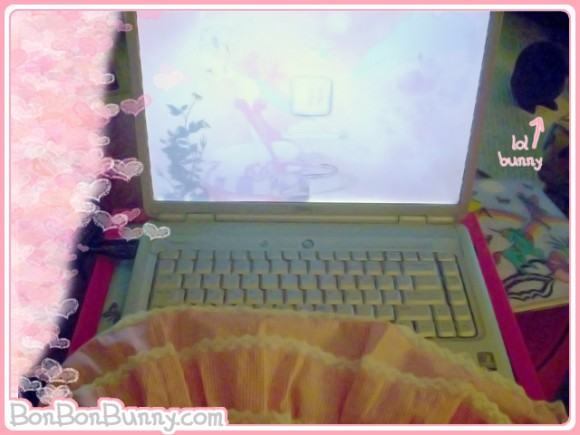 (Didn't even notice Vivi was in this shot until I was editing it on my computer. XD)
I pretty much spent the whole day marveling at the ruffles and the poof and the omg. Sitting down with the skirt out around you… It's like miles and miles of ruffles stretching out forever and ever on all sides.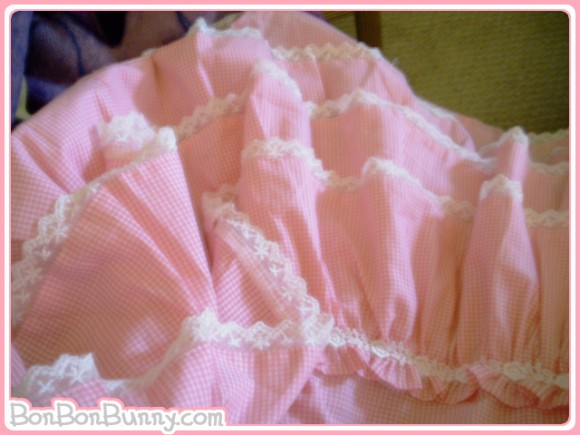 This must be what happiness looks like. <3
Sunday, August 28th, 2011 3:33 pm
Subscribe to the comments feed if you like. You can leave a response, or trackback from your own site.