Friday, November 25th, 2011
November 25, 2011
Hey everybody! Hope everyone had a a great Thanksgiving!
So I guess the day after Thanksgiving is some kind of crazy shopping day or something??
I got in my inbox this morning a note from my Web host provider, Hostgator, that every service they offer is 50% off for today only.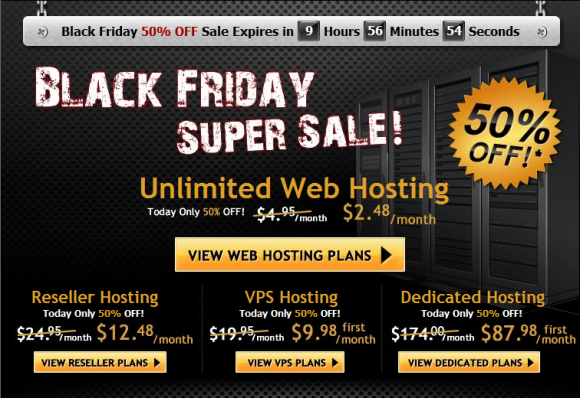 If you've been thinking about starting your own Web site and hosting, I'd jump on this chance! Hostgator is great. I went with the cheapest hosting option (Hatchling Plan) and everything I could have needed for my site was provided (e-mail addresses, mailing lists, subdomains) plus tons of other stuff I might never need but I'm sure would benefit other people!
A run-down of their prices look like this for today:
Shared hosting: Normally $4.95;Today $2.48/month
Reseller Hosting: Normally $24.95; Today $12.48/month
VPS Hosting: Normally $19.95; Today $9.98/month
Dedicated Servers: Normally $174; Today $87/month
It's a pretty sweet deal!
Anyway, I thought I'd just pass this along in case anyone else was looking to building a site or getting a domain. c:
Here's the link again to Hostgator's page, where you can check out what packages are available right now!