Yay Let's Go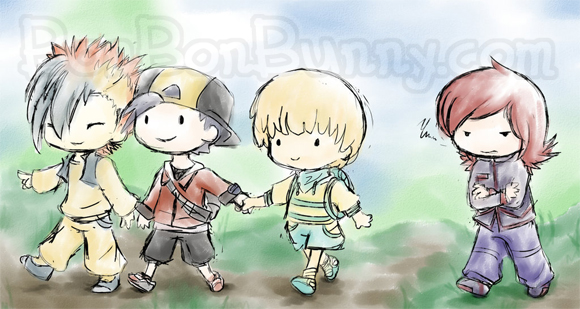 March 2010
This was just going to be a picture of the Trainer and his Dunsparce holding hands (celebrating the new system where your Pokémon can follow along behind you!), but I felt that I needed to include my starter in the picture as well.
And then the Rival snuck in. Looking all like "Friendship is stupid. BI"
(This is more gijinka art by the way! ;O They're people that represent Pokémon, okay??)
Pokémon belongs to Nintendo and Game Freak


Please respect the artist and do not use this image for any purposes (forum avatar, signature, Web graphics, banners, any personal use or commercial gain). (Exceptions?)


Do not trace, copy, or alter in any way. Do not remove signatures or watermarks.


Do not save and/or upload elsewhere (Photobucket, Flickr, Tumblr, etc.).

Monday, May 2nd, 2011 1:05 am
Subscribe to the comments feed if you like. You can leave a response, or trackback from your own site.