Friday, February 24th, 2012
Previous: Part 1 | Part 2 | Part 3 | Part 4 | Part 5 | Part 6
Useful Link: Download Hatoful Boyfriend here!
Bunny Bani makes one (very) final trip to the infirmary as her junior year at St. PigeoNation's comes to an end, and so too does this playthrough.
You know what? I don't think I'm even going to comment on these in between every screenshot. I'll just post them all here and let you form your own responses. (Might still use alt text, though. You were reading the alt text in all of the previous entries, right?)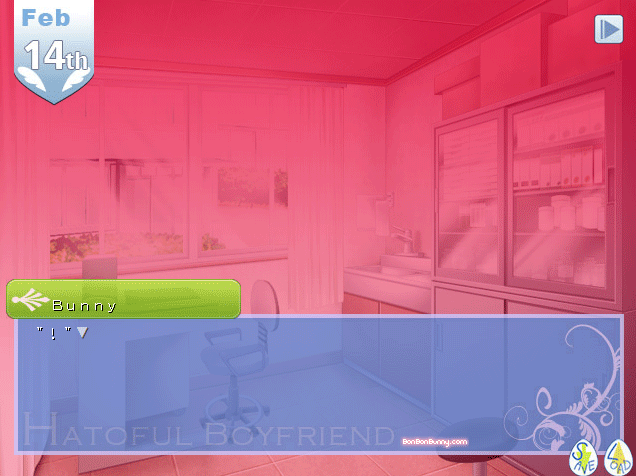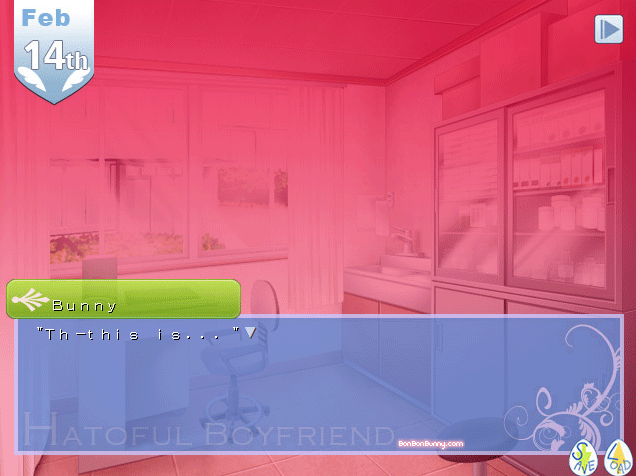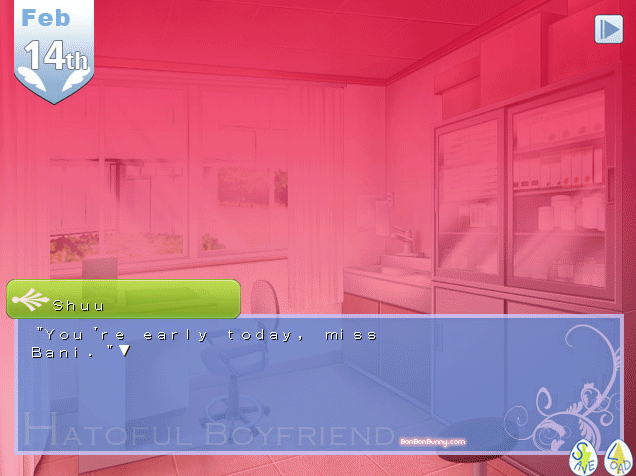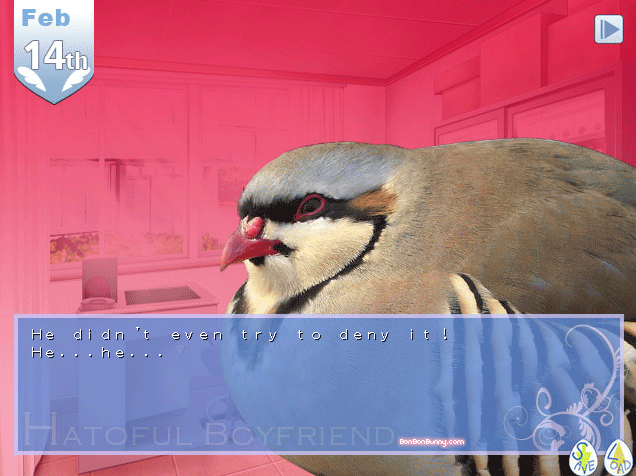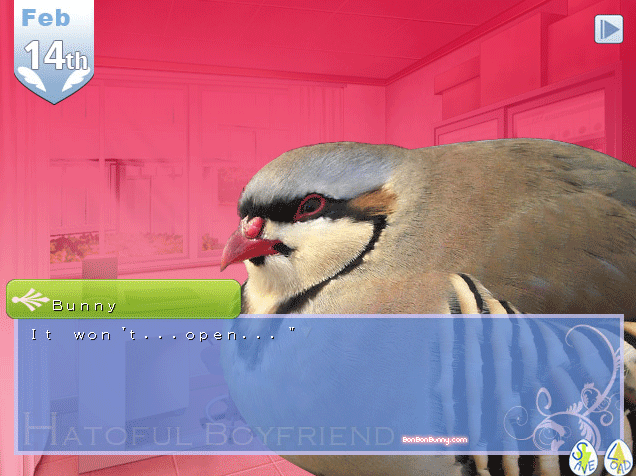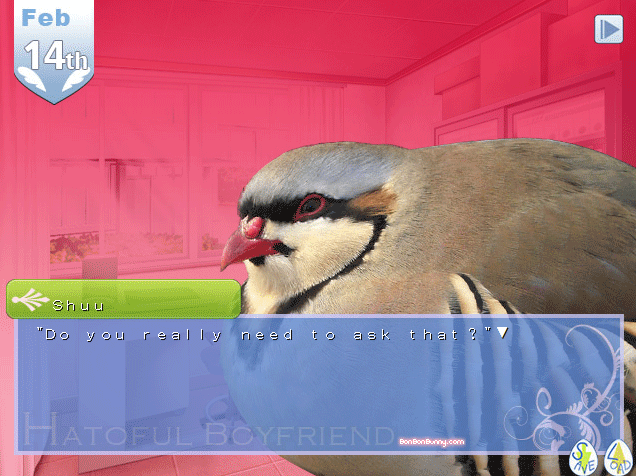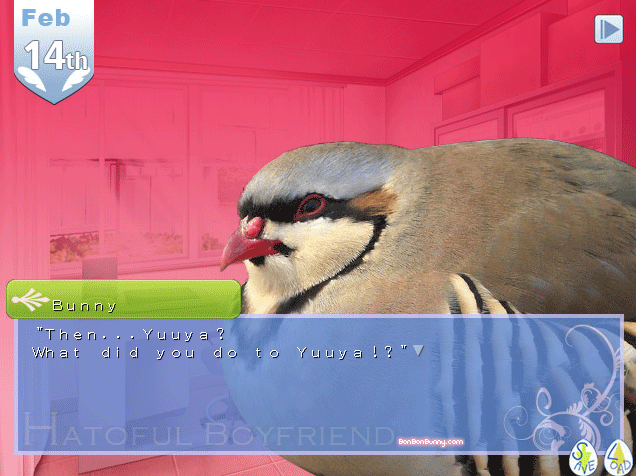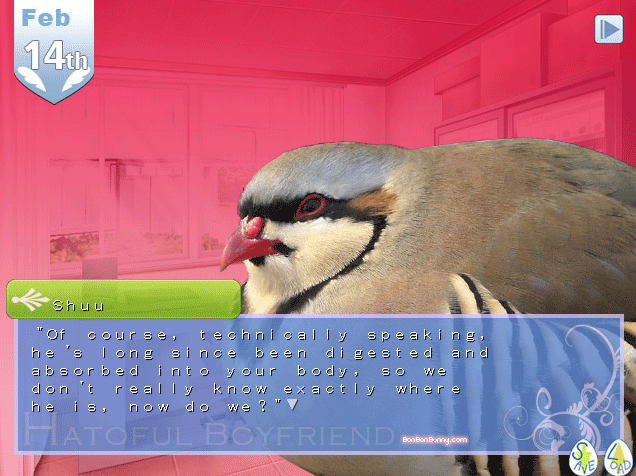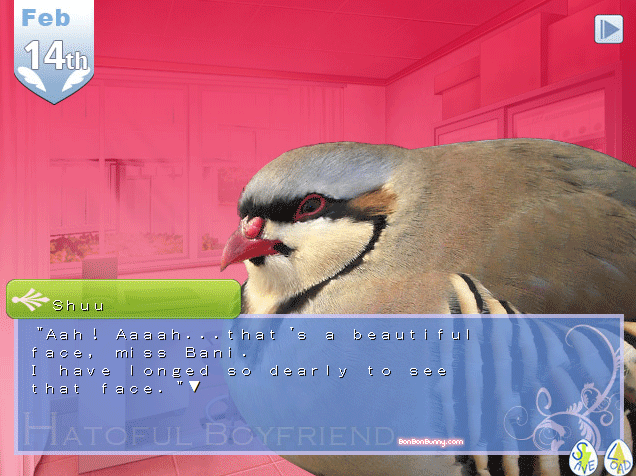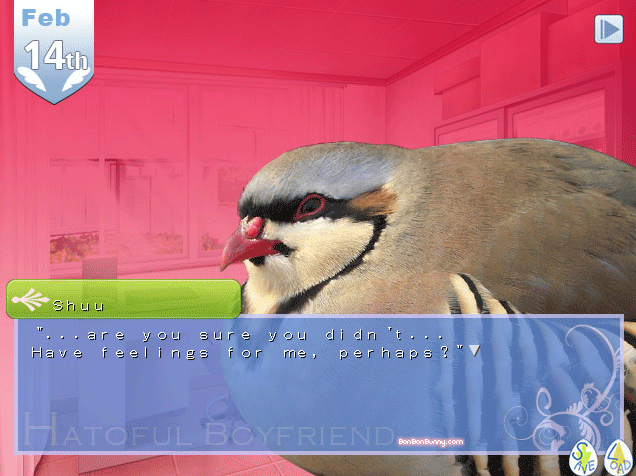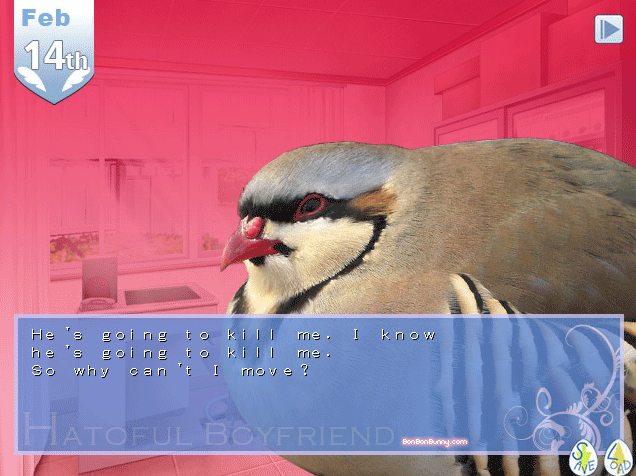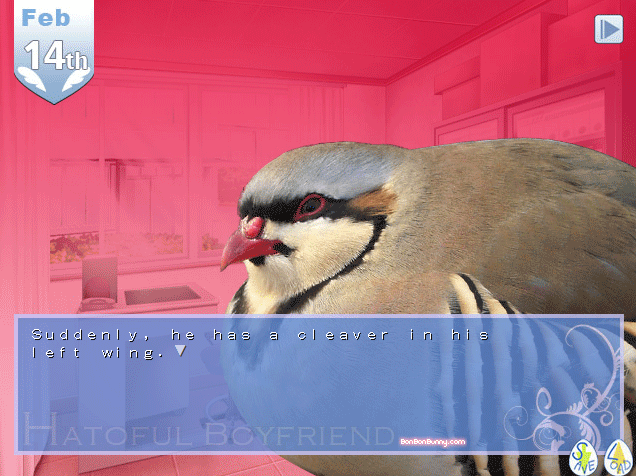 … And if we were playing only the free demo version of the game, this is where Shuu's path would end.  Seriously.  Credits roll, return to title screen.  This is what happens when you SUCCEED in getting close to him.
But because I'm an especially nice person, and because I love the intrigue of the game's real plot ever so much, I'm going to share with you the full version of Dr. Iwamine Shuu's ending.  There were certainly far grander events going on at this school than any of us realized, and Shuu was right at the center of it.  There are consequences that go along with murdering a specimen as important as the sole human girl who was enrolled in the school.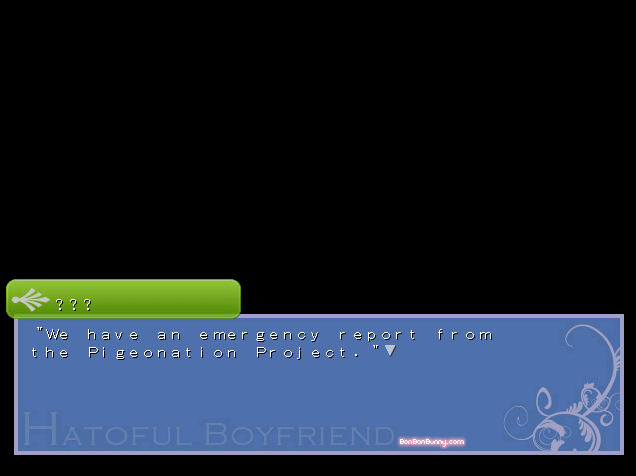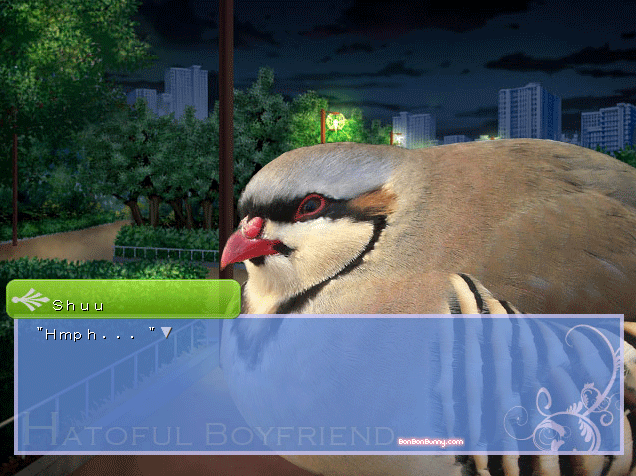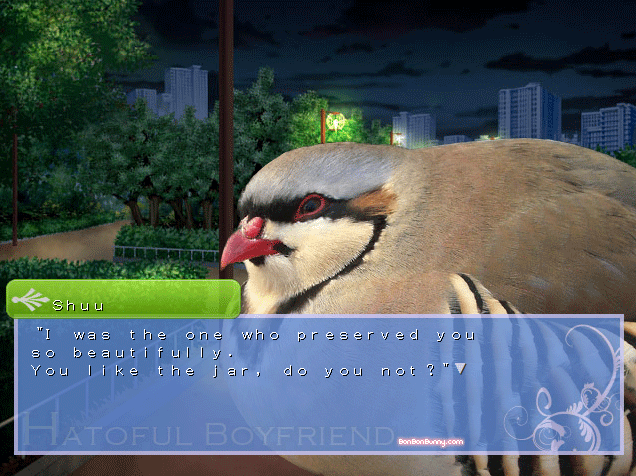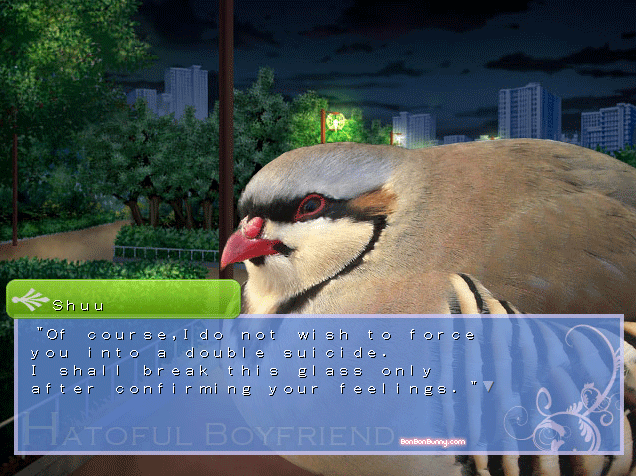 There is the sound of glass shattering.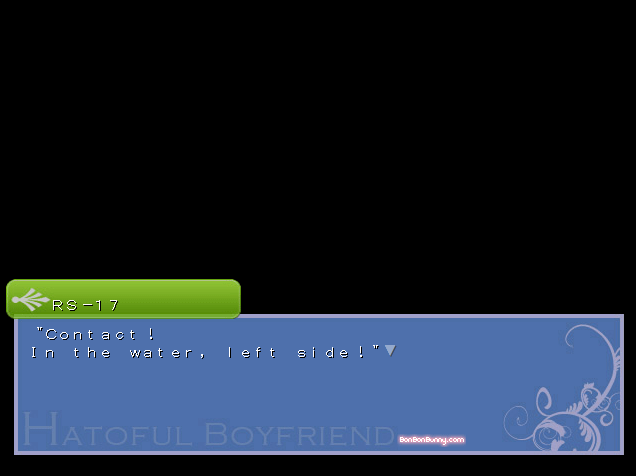 … And the sound of a gunshot.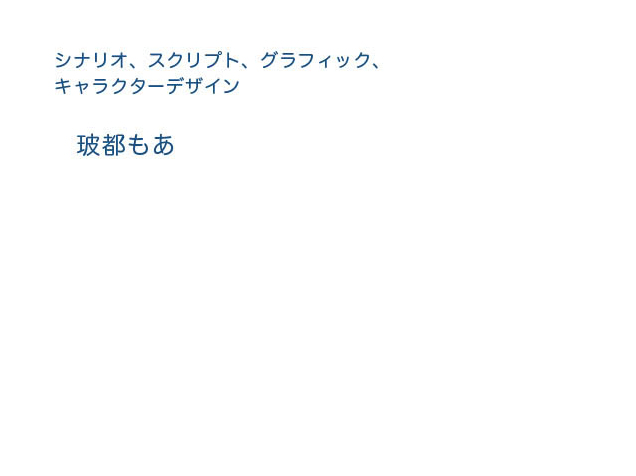 Cue game credits, complete with cheerful orgel music.
And finally, the CG unlocked for completing Shuu's ending: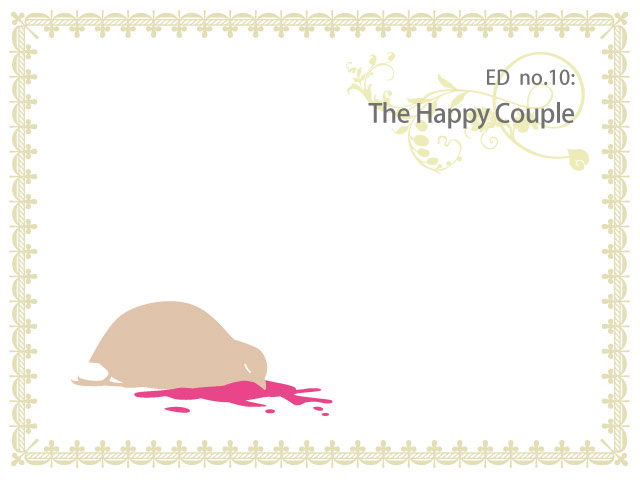 How romantic!
And there we are.  The end of these Hatoful Boyfriend posts.  However, I'm sure you noticed that there's far more to this story than one initially prepares oneself for.  There's an entire plot of conspiracy and intrigue threading through the paths the heroine might take as she goes to school and befriends her avian classmates.  You remember that there are eight more of them besides Shuu, right?  That's eight different characters to see these events with, such as the Summer festival, school maid cafe (pigeon maid uniforms!), and Sports event.  These posts have only shown you one character, who I think is the most dramatic of all of them, but the other boys' endings are certainly worth experiencing yourself!
Oh, and of course, all of that conspiracy and intrigue?  There's a bonus chapter that unlocks after completing all of the endings, which fans refer to as either Bad Boys Love or Hurtful Boyfriend.  It cranks the darkness, creepiness, and intensity of storytelling up to 11 as every character's backstory is divulged even more, and we finally learn everything there is to learn about St. PigeoNation's closely-guarded secrets.
But you'll have to experience that for yourself.  Do you think these numerous hours of entertainment, 9 date-able bishounenpigeons, and 14 different endings are worth your $5?  Then you really, really want to download the full version now.
Previous: Part 1 | Part 2 | Part 3 | Part 4 | Part 5 | Part 6