My Little Pony Plush Commissions
Commissions for pony plushes are closed now!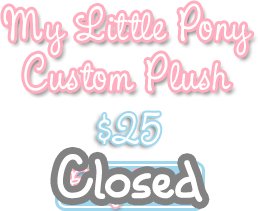 Completed Ponies (no longer updated, but this should give you the gist of how they look!):
For those that have ordered, keep your eyes on the e-mail address you used when you purchased through Paypal, because that's how I'll be contacting you!
Upcoming Ponies:
Filly Princess Luna – need working Paypal e-mail address
Vinyl Scratch – need working Paypal e-mail address
OC Pony – Swifty Kick – need working Paypal e-mail address
Rarity (with Fire Ruby necklace)
Princess Cadence
Rainbow Dash (wearing socks)
OC Pony – Encore
OC Pony – Carbon Maestro
OC Pony – Jackknife
Rarity
OC Pony – Chaos
Rarity
OC Pony – Green Bunny-ears Pegasus
OC Pony – Lightning Heart